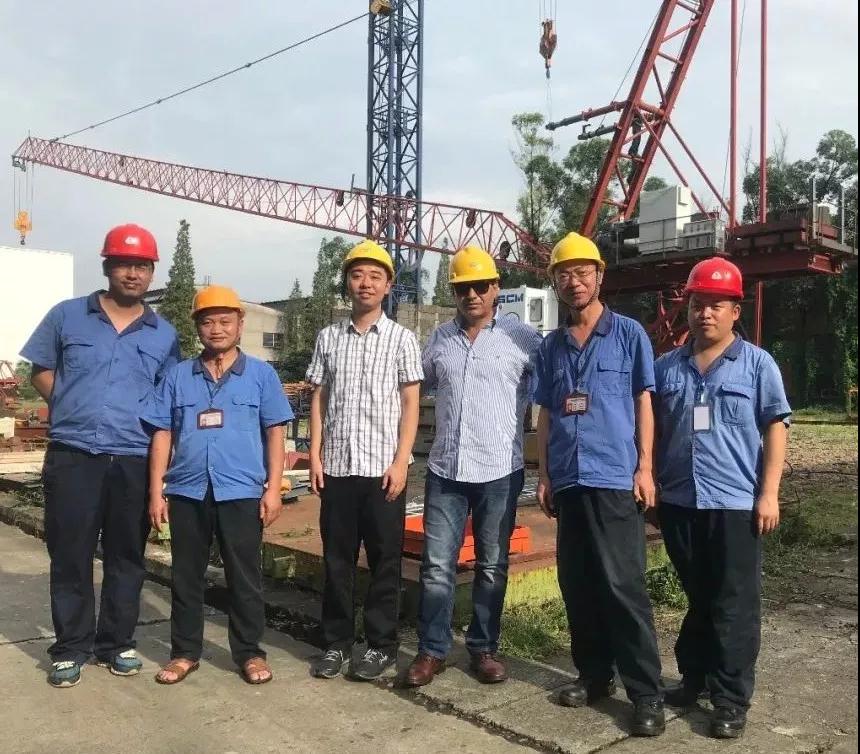 In August 2018, the newly designed D230 boom tower crane of Chuanjian completed all the tests successfully and won the approval of overseas customers.
The D230 tower crane has a maximum lifting weight of 18 T and a maximum operating range of 55 M. The mechanism is equipped with 120 LVF45F, 62 DVF40 and 16 RVF. The standard section of the tower body is 2 x 2 x 3 m (B450S.38).
The tower crane adopts the combined design concept, the lifting boom can be freely assembled from 30m to 55m, and the lifting characteristics are designed according to the maximum lifting weight of 18t, other lifting mechanisms can be freely selected to meet the various installation and disassembly construction requirements on the site.
The biggest characteristic of D230 tower crane is that the connection of rotating upper components of tower crane has changed from traditional frame structure to triangular frame structure. This structure is the latest breakthrough in our company's product design. The structural form makes good use of the concept of intensive design. The force calculation is clearer, the structure is simpler, the fabrication process is stronger, the appearance is beautiful, the whole structure is novel, the weight is small, the installation and disassembly is convenient, the balance arm length is shortened to a greater extent, the working radius is smaller under non-working conditions, and it is more suitable for running in the air. Crowded construction site. The counterweight adopts concrete materials, which greatly reduces the purchasing cost and transportation cost of the users. In addition, the structure of the machine can easily be transformed into a roof crane, so that its construction value can be maximized.
The D230 tower crane is equipped with full frequency converter. Lifting mechanism and luffing mechanism adopt L-type arrangement, which makes good use of the space of balancing arm; rotary frequency conversion adopts the speed limiter independently developed by Chuan Jian, which can automatically adapt the acceleration and deceleration time and running speed of rotary frequency conversion according to the length of the lifting arm, and ensures the smooth and safe operation of tower crane in super-high buildings. .
The boom amplitude of the tower crane is protected by triple protection of the multifunctional travel limiter directly connected with the mechanism drum, the minimum and maximum inclination travel limiter at the root of the lifting boom, and the non-contact induction switch of the boom buffer. Its safety has been verified by users in coastal countries and regions, and can successfully withstand certain levels of typhoons, tsunamis and other adverse natural disasters.
D230 boom tower crane adheres to the SCM pursuit of "good quality" of the enterprise development concept, the accumulation of SCM excellent design elements, she is an ideal choice for the construction of super-high-rise construction projects, small space projects.
Since its launch, the model has been favored by overseas customers.